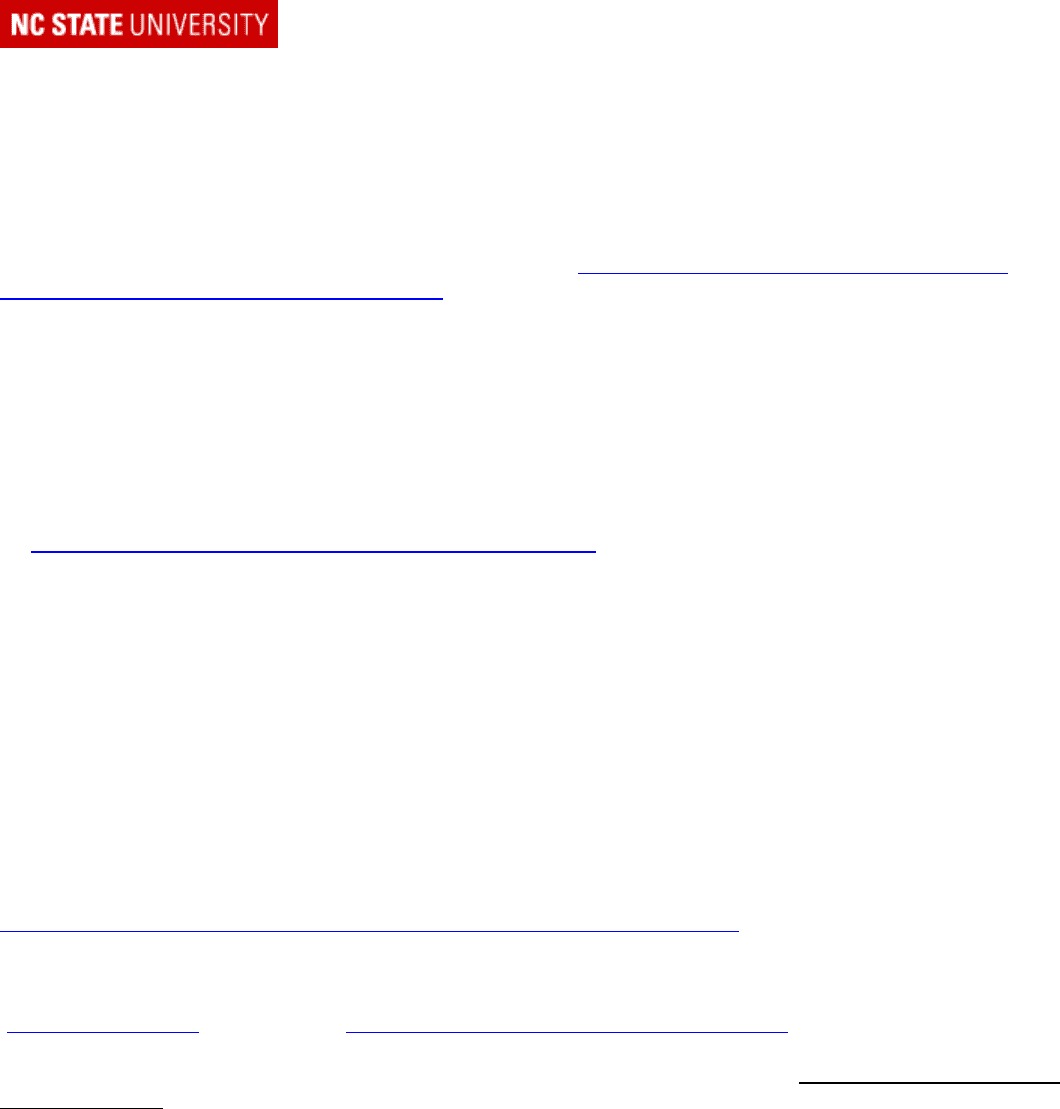 _________________________________
EPA Employment Addendum
–
Lecturer, Summer Session
Policies
You will receive an official appointme
nt letter from the Dean as this offer is subject to the Dean's approval.
Your appointment to this position is subject to the Constitution and laws of the United States and the State of
North Carolina, and to the policies, regulations and rules of the University of North Carolina and NC State
University as adopted and as periodically revised or amended. NC State University policies, regulations and
rules, and the UNC Code, may currently be found online at
http://www.ncsu.edu/policies/homepage.php

and
http://www.northcarolina.edu/policy/index.php
respectively. Your performance, salary, and responsibilities will
be reviewed according to established University requirements and departmental / college evaluation criteria.
Employees of the University are required to participate in the Direct Deposit Program using their financial
institution of choice. Information concerning the Program and additional banking options may be found at:
http://policies.ncsu.edu/regulation/reg-05-45-01
Benefits
This position is ineligible for participation in retirement, health insurance, or voluntary benefits programs.
Information concerning benefits eligibility is available through NC State's Division of Human Resources online
at:
http://www.ncsu.edu/human_resources/benefits/index.php

or by phone at 919-515-2151.
Official Transcripts
To complete the hiring requirements, please request that an official academic transcript for all graduate-level
courses and degrees be sent to NC State University by the institution granting the degree. If you hold multiple
graduate degrees, please request that transcripts for all graduate degrees held be submitted. If the official
transcript is in a language other than English, a certified English translation is also required.
Your continued
employment is contingent upon NC State University's receipt of the official transcript(s) and
verification of your credentials. If the institution is unable to verify your credentials, your employment may be
terminated on the basis of failure to comply with a condition of employment. If your transcript(s) is unavailable
for compelling reasons beyond your control, the Provost may consider a waiver.
Many U.S. institutions participate in the National Student Clearinghouse. If yours does, you can request online
that an official transcript be sent to NC State. To request a transcript through the Clearinghouse, go to
https://www.studentclearinghouse.org/secure_area/Transcript/to_bridge.asp
.
If you hold degree(s) from other than an accredited U.S. institution, NC State will accept a transcript evaluation
from an accredited foreign credential evaluation service such as World Education Services
(
http://www.wes.org/) or Trustforte (http://www.trustfortecorp.com/translation.html

).
Your own unofficial copies cannot be accepted. Have the official transcript(s) sent directly by the institution or
WES / Trustforte to:
HR Information Management
Transcript Officer
North Carolina State University
I have requested official transcript(s): __________
Campus Box 7210
(initial here)
Raleigh NC 27695