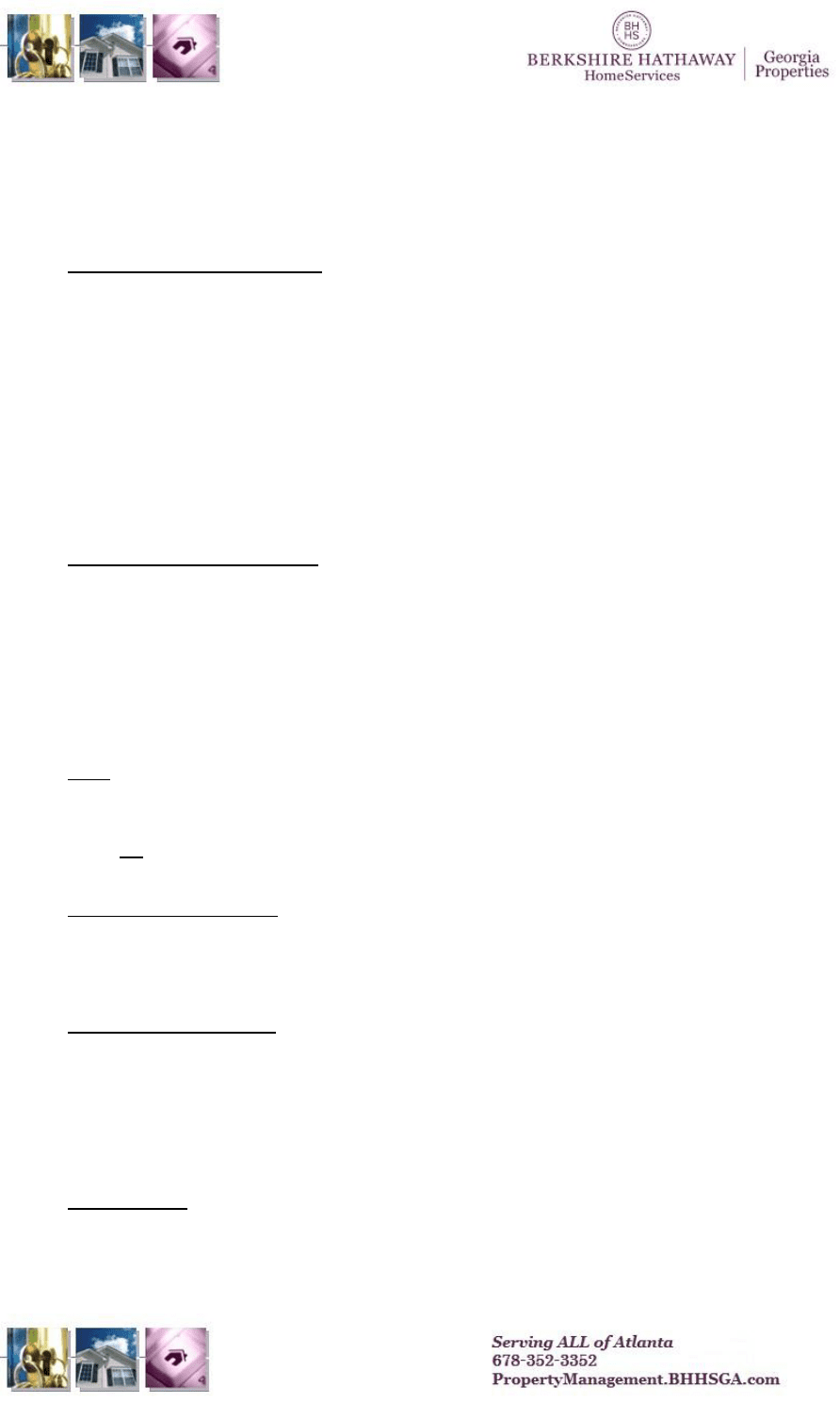 PROPERTY MANAGEMENT DIVISION SERVICES
Property Management Division
Services
Berkshire
Hathaway
HomeServices
Georgia
Properties
-
Property
Management
Division
will
locate
tenants,
collect
rent,
process
lease
renewals,
handle
maintenance
repairs
and
all
other
lease
issues
th
roughout

the

term

of

the

lease.

All

accounting

functions,

Trust

Accounts,

monthly

statements,
collections and landlord-tenant communications will be managed by The Property Management Division.
The initial tenant procurement fee will be equal to one month's rent. Subsequent lease renewal fees and
multi-
year lease fees are based on 50% of one month's rent and do not need to be paid until the 13th month
or at the beginning of each successive multi-year term. Tenant rental checks shall be made payable to
Berkshire
Hathaway
HomeServices
Georgia
Properties
and
the
first
months
rent
shall
be
retained
by
Prudential Georgia Realty as its procurement fee. For your convenience, renewal fees and multi-year lease
fees will also be retained from rental proceeds.
The
Monthly
Management
Fee
shall
be
the
greater
of
$80
per
month
or
10%
of
the
monthly
rental
proceeds.
(Example:) A property renting for $500
per
month
will
be charged
$80
(the
minimum) per
month for management services. If the rent is over $800 per month (Example:) $1500 monthly rental at
10% will yield a $150. monthly management fee. For your convenience, the monthly management fee will
be deducted from the rental proceeds and the property owner will receive the balance.
If a property owner desires to manage his own property BHHS Georgia Properties will provide a Tenant
Only
Lease.
BHHS
Georgia
Properties
will advertise the property through it's media

sources

at

the
owner's
expense,
check
prospective
tenant's
credit
worthiness,
lease
history,
employment
and
income,
write the lease, contact the owner to negotiate any lease contingencies, then turn
the
lease over to the
homeowner. The owner
will
be
responsible
for
scheduling and performing the move-in
inspection and
collecting
the
deposit.
BHHS

Georgia

Properties

will
be

available

throughout

the

lease

term

for
telephone consultation.
The fee

for

this service

will

be

an

amount

equal

to one

month's rent

, retained
from the first month's rental payment.
If the owner will accept pets, a "pet fee" will be required of the tenant. This fee is paid to the owner. The
tenant shall sign a separate Pet Agreement at time of lease.
This fee is in addition to the security deposit
and is not refundable to the tenant and can be immediately used by the owner to help offset the
procurement fee.
BHHS Georgia Properties will send its rental proceeds check to the homeowner, along with a monthly
statement that will outline all rental income, expenses and accounting functions concerning this property.
At the end of the year, a 12 month financial recap will also be sent to you for tax purposes.
PAYMENTS TO OWNERS
( Exclusive to BHHS Georgia P
roperties'
clients )
There is not a grace period in our lease. 98% of our gross rent roll is in house by the 4th or 5th day
of the month. Our payment to you is by BHHS Bank Check, mailed on or about the 7
th
and usually
th
,
depending
on
U.
S.
Postal
service
delivery.
This
is
much
faster
than
most
competitors, as we do not wait for the tenant's check to
clear the bank. For
even faster service we
will hand carry your proceeds to your local bank for immediate deposit into your account. You must
provide pre-printed deposit slips for this purpose.
BHHS
Georgia Properties
will
market
your
property
through
its
various
media
and
corporate
account
sources
to
obtain
qualified
tenants.
Your
property
will
also
be
entered
into
the
First
Multiple
Listing
Service computer for instant information distribution, and sharing among all Real Estate companies.