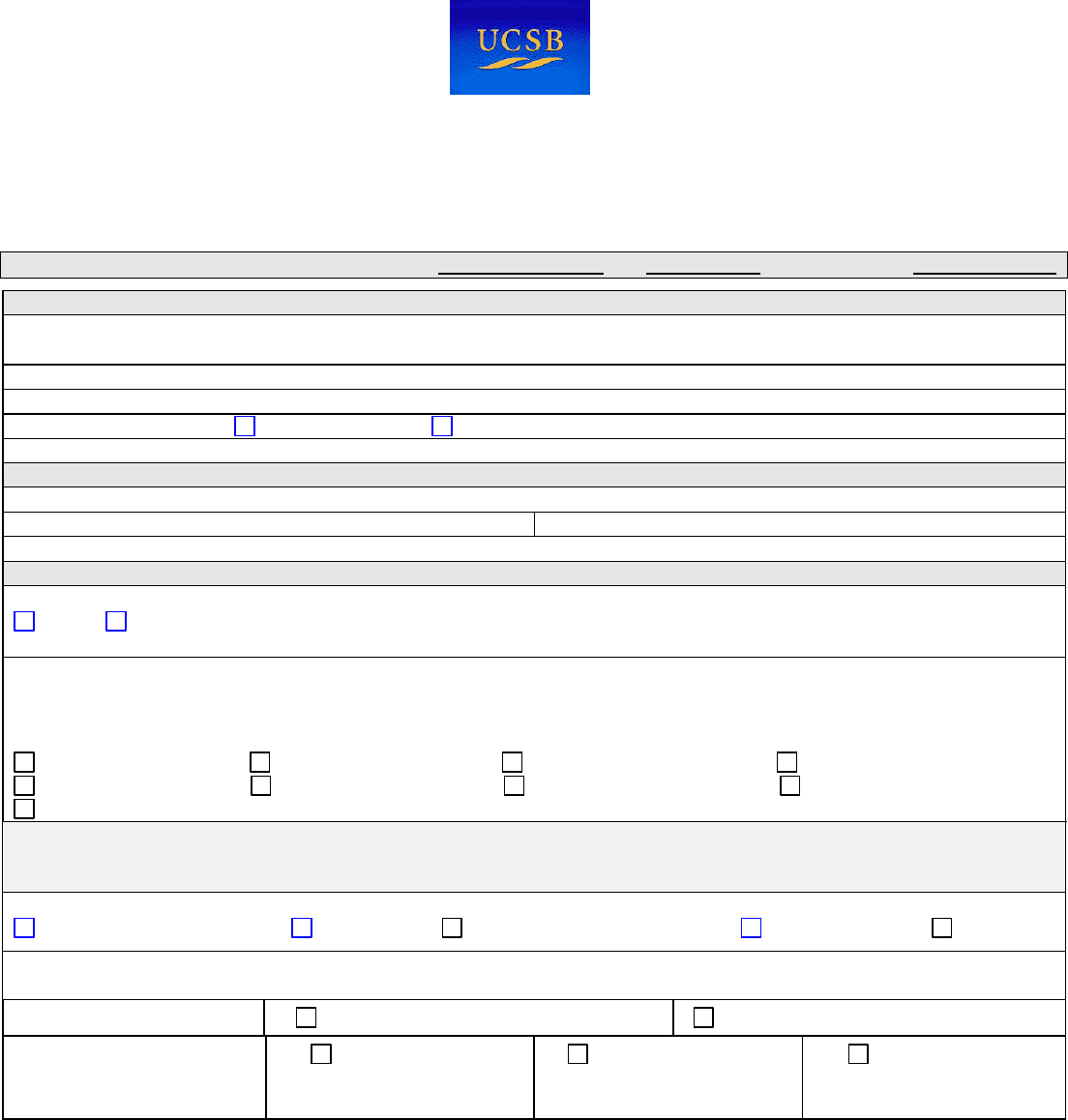 UCSB Contractor Profile Form
1

Rev. 2/19/15
University of California, Santa Barbara
INSTRUCTIONS: To be completed by all firms, entities, or individuals proposing to perform construction work for UCSB.
Complete, sign and return this form to:
Kelsey Shahinian
, Administrative Assistant, Contracting Services; UCSB
Facilities Management Bldg. 439;
Room 'E'
Santa Barbara, CA 93106-1030 or via facsimile at (805) 895-8592.
For UCSB only (do not write in this area) Reviewed by:
Date:
Updated & Entered:
PRIMARY
(MAILING)
ADDRESS, CITY, STATE ZIP:
SECONDARY ADDRESS (if different from street address):
MAILING ADDRESS:
PRIMARY
SECONDARY
EMPLOYER IDENTIFICATION NUMBER (EIN)
Note: This is not your SSN
1
Are any of the owners or owners' relatives currently employed by the University of California?
Yes
No

If YES, please provide the following details on an attached sheet of paper: name(s),
department(s) and relationship(s).
INDICATE DOLLAR RANGE OF PROJECTS YOU WOULD BE INTERESTED IN BIDDING:
(The amounts listed
below reflect the Estimated Construction Cost for an entire project
–
these amounts may not be the amount your firm will
be bidding, i.e. if a project is estimated at $7 Million, but your portion is $75,000, would you be interested in this projec
t)
CHECK ALL THAT APPLY:
UP to $50,000
$50,000 - $100,000
$100,000 - $250,000
$250,000 - $500,000
$500,000 - $1,000,000
$1,000,000 - $5,000,000
$5,000,000 - $10,000,000
$10,000,000 - $25,000,000
$25,000,000 - $50,000,000
OWNERSHIP INFORMATION
The information listed below is for statistics on utilization of such businesses and is part of our outreach
program, this information is not for publication and will be kept confidential
OWNERSHIP OF BUSINESS: (Check One) if "
Corporation
" is selected, please
provide

the State
Corporation State:
Partnership

Individual/Sole Proprietorship
Joint Venture
LLC
Owner Status - Business is at least
51%
Owned, Controlled, and Actively Managed by (Place an "X" in the boxes that
best describe your firm's ownership check all business categories that apply, refer to
Page 3 for definitions):
LARGE BUSINESS ENTERPRISE (LBE)
SMALL BUSINESS ENTERPRISE (SBE)
Select
one
of the following
3 if applicable
DISADVANTAGED
BUSINESS ENTERPRISE
(DBE)
DISABLED VETERAN
BUSINESS ENTERPRISE
(DVBE)
WOMEN-OWNED
BUSINESS ENTERPRISE
(WBE)
University of California, Santa Barbara
Contractor Profile Form