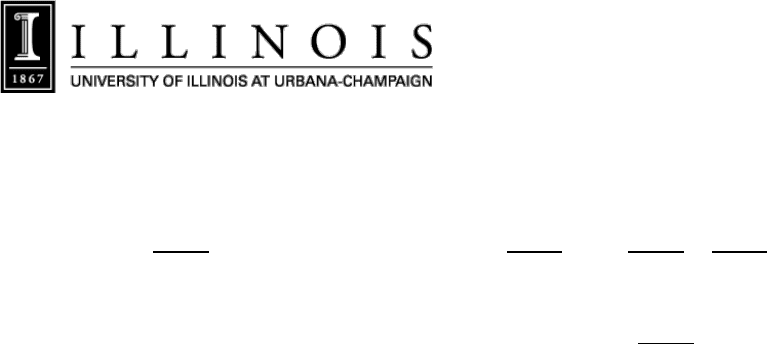 This Facilities Use Agreement ("Agreement") between The Board of Trustees of the University of Illinois,
("
ILLINOIS

") and
("
LICENSEE
")
is effective on the

day of

20

("Effective Date")
and sets forth the terms under which ILLINOIS will provide to LICENSEE access to specified ILLINOIS
facilities, equipment and resources at ILLINOIS
'
Urbana-Champaign campus (collectively
"
Facilities
"
).
1.
L

ICENSE

P

URPOSE
. ILLINOIS, through its College/Department of
, grants to LICENSEE
permission to use Facilities solely for LICENSEE
's research and development purposes ("
LICENSEE
Purposes")
. The Facilities and LICENSEE Purposes are more specifically described in

Exhibit A.
2.
T
ERM
. This Agreement shall be in effect for one year, unless either party serves written notice of
termination.
3.
F
EE
/R
EMITTANCE

. For use of Facilities, LICENSEE will pay ILLINOIS a fee based upon the rates
and other charges set forth in
Exhibit B
(the "Fee"). The
rates and charges expressed in Exhibit B are
subject to change upon 30 days
'
prior written notice to LICENSEE
.
LICENSEE shall pay the Fee due to
ILLINOIS no later than 30 days after
LICENSEE's
receipt of an invoice, which ILLINOIS shall submit not
more frequently than monthly. When making payment, LICENSEE will: (a) remit by check payable to the
"University of Illinois"
; (b) reference this Agreement and the applicable invoice being paid; and (c) mail to:
University of Illinois (Payee), PO Box 4610, Springfield, IL 62708-4610, U.S.A.
4.1.
A
UTHORIZATION OF

LICENSEE

E

MPLOYEES

. Only those employees of LICENSEE approved by
ILLINOIS may use the Facilities. ILLINOIS, in its sole discretion,
ma
y limit the number of approved
LICENSEE employees who have access to the Facility.
4.2.
R
EMOVAL OF A

LICENSEE

E

MPLOYEE. Without limiting any

other rights of ILLINOIS, ILLINOIS
may at any time and without advance notice revoke the on-site privileges of any LICENSEE employee if
ILLINOIS
determines that the employee's conduct is
improper or may jeopardize the operation or safety
of ILLINOIS
's Facilities or
any activities conducted at the Facilities.
4.3.
I
NVOLVEMENT OF

ILLINOIS

E

MPLOYEES.

No ILLINOIS employees or students are authorized under
this Agreement to participate in research, development or testing activities or to provide consulting
services for the LICENSEE. ILLINOIS employees or students may interact with LICENSEE employees to
schedule use of Facilities, to train authorized LICENSEE employees on use of equipment, and to assist
authorized LICENSEE employees in trouble-shooting problems with or servicing the equipment. If
LICENSEE wishes to engage ILLINOIS to perform services, the Parties will enter into appropriate
agreements.
4.4.
A
VAILABILITY OF

E

QUIPMENT.

LICENSEE's

permission to use Facilities shall extend to any
equipment identified on Exhibit A and any equipment installed at the Facilities during the term of this
Agreement. ILLINOIS may remove equipment from or install equipment at the Facilities in its discretion
without amending Exhibit A. UI will give written notice to LICENSEE if additional charges are associated
with the use of any equipment installed at the Facilities that are not already included in the Fee.
5
.
S
CHEDULING

. Exhibit B describes the general availability of Facilities. The parties shall schedule
LICENSEE's specific hours of use
to avoid conflict with ILLINOIS
'
educational and research programs
and with authorized use by third parties that have signed similar Facilities Use Agreements. ILLINOIS will
determine priority of equipment repairs and may limit equipment availability during repairs.