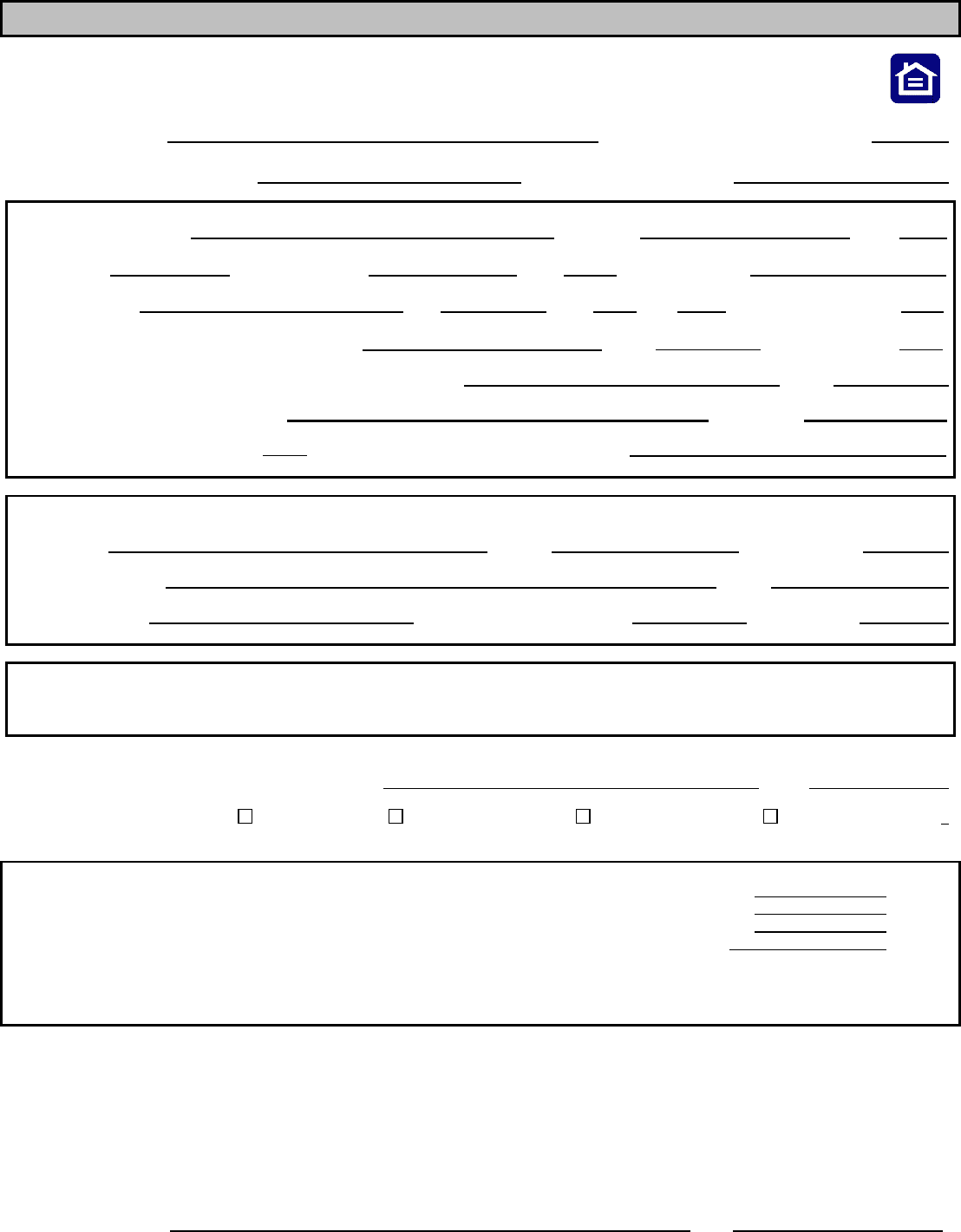 RENTAL APPLICATION
The management of this property supports Equal Housing Opportunity. No person shall be denied tenancy or otherwise
subjected to discrimination due to race, color, national origin, religion, sex, familial status, or physical or mental handicap.
PROPERTY NAME
FOR APARTMENT NUMBER
APPLICANT PHONE NUMBER
DESIRED MOVE-IN DATE
Last Name of Applicant
First Name
________________________
Initial
Date of Birth
Drivers License #
State
______
Social Security #
Current Address
City
State
_____
Zip
_
___
Lived There How Long?
Current Landlord's Name (or Mortgage Company)
Phone

____________

Monthly Payment $

_____
Previous Landlord's Name (if at above address less than 1 year)
Phone
Names of Others to Occupy Apartment
Relationship
Total Number to Occupy Apartment
_____
Do You Have Pets? If Yes, Type and Weight
PRIMARY EMPLOYMENT
Employed By
Position
How Long There
Supervisor's Name
How Many Hours per Week

Monthly Salary
ADDITIONAL INCOME:
Please explain source and include information to allow verification.
Name of Anyone Who Referred You to This Property
_____________________________________ ___
Phone
_______ ______
How Did You Hear About Us:
Newspaper
Rental Magazine
Drive-by/Signage

Ot

her_____________
Have you ever filed bankruptcy?
yes ( ) no ( )
Date
Have you ever been evicted from an apartment?
yes ( ) no ( )
Date
Have you ever been convicted of a felony?
yes ( ) no ( )
Da
te
Have you ever used another social security number?
yes ( ) no ( )
#
We perform thorough background checks on all applicants.
Is there anything you wish to explain that we are going to discover?
In compliance with the FAIR CREDIT REPORTING ACT, this is to inform you that a credit investigation involving the statements made
on your application for residency at this apartment property is being initiated. If any information herein is false, the lease made on the
strength of this application may, at the option of the landlord, be terminated at any time. There is a non-refundable processing fee of
The
signature
below certifies that to
the best
of my
kn
owledge all
statements
on the
application are
true and
complete
.
I

further
authorize the management to
obtain credit reports, income verification, criminal background,
rental history and any other
information needed to process this application.
Signature of Applicant
_____________________________________________________
Date
________________________